Baptism is outward sign of new birth, a declaration of one's inward repentance, faith, and commitment to follow Christ (
Titus 3:5
). When immersed in the water, baptism shows the world what Christ did for us 2,000 years ago on that first Easter weekend. We:
Die to one's old self (going down into the water)
Are buried with Christ (being under the water)
Rise again in new life (being lifted out of the water) (Romans 6:3-4)
Baptism is not necessary for salvation, but instead our response to being saved by Christ (
Acts 2:41
,
8:12-17
). Although not necessary, baptism should not be ignored. It is an action Christ modeled (
Mark 1:10
) and commanded of His followers (
Matthew 28:19
). Baptism is not for any age. The believer must fully understand what it means to confess that Jesus is Lord and believe God raised Christ from the dead (
Romans 10:9
). Baptism is typically not sprinkling, but full-water immersion to symbolize one's death, burial, and resurrection (
Romans 6:1-11
).
For the individual, baptism is identification with Christ's church (Acts 8:12) and to Christ Himself (Colossians 2:12).
For the church, baptism is an encouragement that God is still working in our world. He is daily bringing more into His family/church (1 Corinthians 12:13), and this is to be celebrated.
Within the larger culture, baptism shows how our faith in Christ, even in the face of verbal or physical persecution, is bigger than any suffering and trial we may face because of our faith (1 Thessalonians 1:4-6).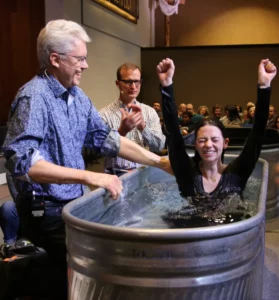 If you want to talk to one of our pastors about what baptism means or how you can be baptized, please click the button below or contact our church office.